Flora of China
---
Flora of China News

The Flora of China Newsletter is intended to inform the worldwide botanical community about progress made on the Flora, as well as on related botanical activities in China.

Volumes

Net Connections

Flora of China Illustrations Volume 19-I was published in March 2012, Volume 23-I in 2011, Volumes 10-I and 25-I in 2010. Volumes 7-I and 11-I in 2009, 13-I and 12-I in 2008, 22-I in 2007, 14-I in 2006, 5-I in 2005, 9-I in 2004, 6-I and 8-I in 2003, 24-I in 2002, 4-I in 2001, 18-I in 2000, 15-I in 1999, 16-I in 1999, and 17-I in 1998.

To order or to request any information regarding the volumes, please contact:

Missouri Botanical Garden Press


Related articles are available online; see papers published in Novon and Harvard Papers in Botany. The Flora of China Checklist will include accepted botanical names, synonyms, and their bibliographical citations; reference to the volume, page, and year in which the taxon was treated in the Flora of China and Fl. Reipublicae Popularis Sin.; distribution in China (at the provincial level) and in areas neighboring China; altitudinal ranges; and status (whether the taxon is endemic, indigenous, naturalized, or cultivated in China). Full cross-references of accepted names and synonyms will be given. The checklist is part of the major database of Missouri Botanical Garden, which will include additional information on type specimens, chromosome numbers, and other relevant data. An HTML interface to the Checklist is available. The web interface creates lists of accepted names and new taxa.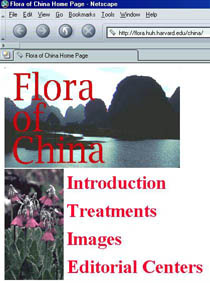 The Harvard University Herbaria, one of the editorial centers for the Flora of China Project, is the site for the Flora of China Web. The web pages contain this regularly updated newsletter, introductory information, an alphabetical index to families, floristic treatments (eFloras), interactive keys for identification, related papers, images, links to the FOC illustrations, and information on editorial centers and the people involved in the Project. Web-based interactive identification keys to large and medium-sized genera of the flora of China are available in DELTA Intkey and NaviKey formats. NaviKey is a Java applet for accessing DELTA data using any web browser. The keys are also accessible via PathKey (for any browser or mobile device).
---
Support has been provided by grants from the U.S. National Science Foundation, the Starr Foundation, Fondation Franklinia, and the Stanley Smith Horticultural Trust.

Back to Home Page