Doctor Zhu Guanghua died on 2 November 2005. Based at the Missouri Botanical Garden, he was Co-director of the Flora of China project. He played a central role in the liaison between the Chinese and Western partners of the project and edited the Flora of China Illustrations. His research interests included the families Araceae, Orchidaceae, Poaceae, and Ranunculaceae. He also did much to advance understanding of the details of botanical nomenclature in China by translating the Saint Louis edition of the International Code of Botanical Nomenclature into Chinese. Altogether he published some 55 books, papers, and articles, including 20 new species. He is also remembered by Philodendron zhuanum Croat, a species of Araceae that he discovered in Panama with Dr. Thomas Croat.

Zhu Guanghua was born on 17 January 1964 in Manzhouli, Nei Mongol Autonomous Region. He gained a Bachelor's degree in botany at Inner Mongolia Normal University in 1985 and a Master's degree at the same University in 1988. In September 1990, he moved to St. Louis, Missouri, in order to join the Ph.D. program at the University of Missouri-St. Louis and the Missouri Botanical Garden. His thesis, on the systematics of Dracontium, was supervised by Dr. Thomas Croat, curator of Araceae at the Garden, and was successfully defended in September 1995. Immediately afterward, Dr. Zhu joined the staff at the Missouri Botanical Garden working on the Flora of China project, of which he became Co-director in 2001. On 8 October 1999, Dr. Zhu married Dr. Feng Yuxing, whom he had met at the Institute of Botany, Chinese Academy of Sciences, in Beijing. On 5 December 2000 their son, Yifu, was born.

Tragically, in the autumn of 2002, Dr. Zhu was diagnosed with lung cancer. After treatment, he gained over two years of remission, during which time he led a very active and productive life, but unfortunately he became ill again in the summer of 2005. He remained active almost to the end, returning from a visit to China only five weeks before he died.

In this volume Dr. Zhu was a co-author with Prof. Chen Shouliang on the account of the tribe Triticeae, in which the name Elymus zhui S. L. Chen is published in Dr. Zhu's honor. In November 2005, the Joint Editorial Committee unanimously decided to dedicate Volume 22 of the Flora of China to the memory of Dr. Zhu Guanghua.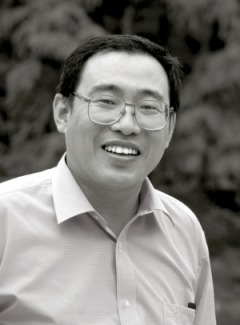 DR. ZHU GUANGHUA
(17 January 1964 - 2 November 2005)